This project won the Core77 Design Awards 2021
Award Category: Speculative Design-Student Notable
And nominated to win a Core77 Community Choice Prize
In today's society, more and more women are engaged in a variety of productive activities, having  jobs in society and participating in outside activities. On the other hand, women still bear the majority of housework and childcare. This is due to the underlying social norm that women are supposed to take care of household chores and childcare, and that these tasks are considered similar to service and are not recognized as work. However, balancing work at home with work at the workplace has become a source of concern for many women, and is linked to pain points that prevent them from realizing their expectations. What is work in the first place? Is it right that work at the workplace and work in home are divided and perceived as separate? We focused on the fact that the values created in housework and childcare are not considered to have created any economic value, and made a what-if statement, "What if invisible value, value created outside of the workplace that is not currently measured, is valued economically?
Under this statement, we created an inclusive and well-being friendly future working scenario in 2040 by making the value created at home visible and getting paid by Invisible Value Income Program (I.V.I Program). 
I.V.I Program is a social policy in which the government recognises and pays for the invisible value that people created outside the workplace. Invisible Value Income allows working parents to achieve their goals at home and work, without having to choose one over the other. It will also have an impact at the individual, family, workplace, and societal levels, and these impacts will be interconnected, leading to changes in the norms and systems of society as a whole (see Project Detail for details).
In 2040, individuals, families, workplaces, and societies will be less fragmented and more flatly connected. The visualization of value produced and sacrifices made will highlight the value and challenges of the individual outside the workplace. From there, mutual understanding will be fostered, leading to the correction of distortions in the existing social system and the building of a better future for many.
We hope our project starts a conversation and inspires action that can be taken today.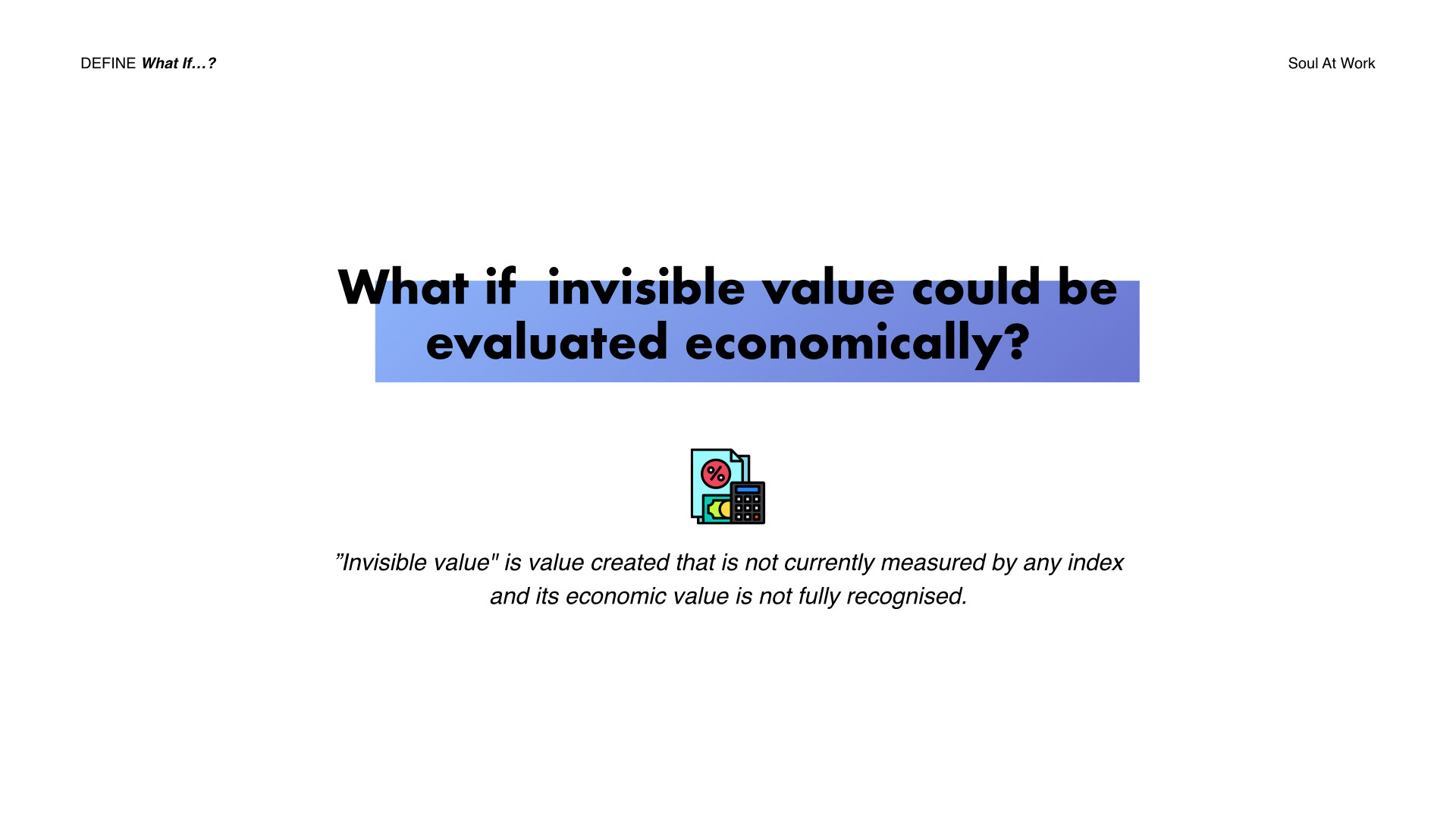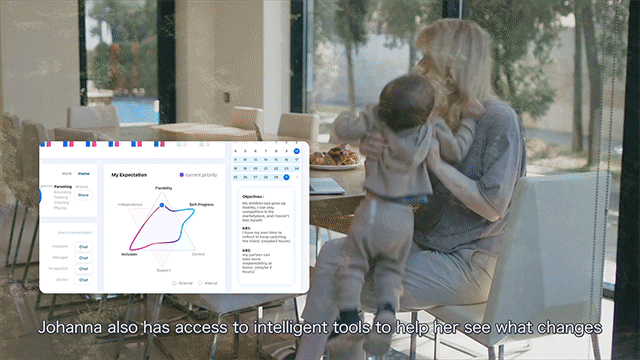 TAKEAWAY - VALIDATION AND WORKSHOP
We put our I.V.I. program concept through nine in-depth validation sessions (It included working women, working fathers, company management and HR) and an external workshop organised by our client, i.e. Fuzzy Studio. Through the validation sessions, many participants resonated with and saw the value and concern behind the I.V.I. program. We learnt : At the company level, give users the ability to grant their employer partial access to program data. "The idea of being able to measure how your time is used and the flexibility of time would be brilliant as an HR tool". For individuals, providing a trust-based service and visualisations of invisible value can create conversations at home and at the workplace. "The platform might encourage the partner to also participate in domestic work". We hope our project starts a conversation and inspires action that can be taken today.